"If you don't know where you're going, any road will get you there."
~ Alice In Wonderland.
Most people think about their goals and dreams too casually, eventually completely forgetting about them, and just drift through life, settling for whatever comes their way.
In fact, most people spend more time planning their birthday party than designing their future...
In order to achieve big goals, we need more than wishful thinking and sincere commitment to make it happen. We need a winning game plan and a solid process that will support us along the way.
After years of experimentation with different types of goal-setting processes, I've come up with a simple 4-step system which enabled me to achieve all of my major dreams in the last decade or so.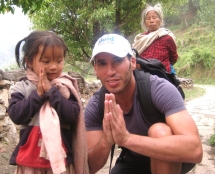 Using this system, I obtained financial freedom from excessive debt in less than a year. I completed an Ironman Triathlon and kicked my smoking habit in 6 months. I built a house for a family in need with no building experience and no funds. I travelled around the world without the need to ever go back to look for a job. Needless to say, I am a big believer in this process.
Originally, I was going to share it as a blog post, but instead, and due to its length (30+ pages), I decided to put everything into an eBook called Design Your Dream Year.
To get my eBook for FREE, simply enter your email address in the box below and press "GET IT!" - You'll receive it right away by email.
I downloaded your book on achieving dreams.. Must appreciate that your suggested methods sound more practical and doable than most others..
Your way of approaching goals seemed much more pragmatic than other programs that I've looked into... I'm spending time answering some of your questions and they are helpful.
I have read your e-book (it's fantastic!!!)… You ask great questions and you write in a thoughtful, beautiful and moving way
What Can I Expect?
Some of benefits you can expect from using my 4-step process include:
- Identify and pursue your biggest, most audacious dream.
- Break up a long-term goal up into manageable pieces with benchmarks.
- Focus your energies where you can achieve the most.
- Create a plan that's simple, yet ensures results.
- Adopt supportive habits that actually stick.
- Measure your progress along the way, week-by-week.
Most importantly, you'll learn a system for achievement that you will use for the rest of your life.
So, if you are truly serious about making your dreams come true this year, take action and download the eBook for FREE.
I'm inspired by Tal Gur and his Free E-book "DESIGN YOUR DREAM YEAR" which I read on 1st Jan. I owe this man for he brought me back on track. I had kinda given up on my ability to stick to goals.
...I was stuck the past few weeks and didn't have the drive but when I saw your formula and the way you clearly defined your goals, I was so delighted. I then compiled a list of my own goals and have set deadlines and pasted them on my walls. Thank you!
Thank you for the "Design your dream year" goal setting workbook, I have struggled for 2 years with being able to focus on what i really WANT and to commit it to paper, but with help from your workbook i am beginning to really think about what has held me back from making my Network Marketing business a success. The workbook has me breaking down the dream into small action steps i have to take (writing a prospect list, make calls per day, set appointments to show the plan, get customers, etc). I am still working on all the above, just wanted to say thanks!
The Dream Year ebook has helped me to start writing down what I would like to achieve... A big step for me so will be using your guide to act as an action plan for myself.
P.S If you found this helpful, please forward it to someone you love and click the sharing buttons below. The world is a better place when people actively follow their dreams.