The following 10 simple questions are designed to help you determine how strongly addicted you are.
Simply count the number of times you answered "Yes".
1. Do you check social media first thing in the morning or last thing at night?
2. Do you often check social media while you are working on something else?
3. Do you spend more than an hour a day on social media?
4. Do you spend 6-7 days a week on social media?
5. Do you end up spending more time on social media than you originally intended?
6. Have you ever failed to meet a deadline or not completed a task because you were on a social media site?
7. Do you turn to social media when you are feeling down, sad, or overwhelmed?
8. After being away from social media for a while, do you start longing to see what your friends are doing online?
9. Do you have apps for all your social media accounts on your phone?
10. Do you think you spend too much time on social media?

So, how did you do? No single question is a sign of addiction. However, your answers reveal a trend. Multiple positive responses may indicate that your social media usage is becoming unhealthy.
If you've answered "NO" to all of the above-mentioned questions, congratulations! Your relationship with social media is healthy and you can stop reading right now.
Otherwise, I applaud your self-honesty, and invite you read on...
Curing Social Media Addiction
While social media addiction may not be a recognized clinical disorder (even science needs to catch up with technology), it is not any less serious.
Don't get me wrong, I am a social media user. But without boundaries, social media can also become unhealthy and damaging. It sucks not only time and attention, but also detracts from genuine human interaction.
I should know, as I used to spend aimless hours on social media apps. There were times when I obsessed about writing witty statuses which would result in "likes" and comments. Too often, I found myself logging on more often just in case something good was posted while I was busy with other things. And once I got on I had trouble pulling myself away – there seems to always be one more thing I want to do or one more thing I want to look at.
My social media addiction killed my productivity, affected my energy, and interfered with my goals. I knew I needed a change but I didn't want to go cold turkey and quit – social media still had its advantages.
Can you identify with the above?
If you do, don't get discouraged. There is a solution and it's simpler than you think. And no, you won't have to stand before a group of strangers to pronounce, "Hi, I'm John and I am a social media addict"..
Social media addiction, and any addiction for that matter, is nothing but a strongly ingrained habit that has gotten out of control. So, in order to overcome an addiction, we simply need to understand, predict, and change the habit.
You notice I said "change" and not "break", "beat", or "kick". There is a reason for that and I explain it step-by-step in my Healthy Social Media Habits book.
Enter your email below to download my guide for FREE. It will lead you step by step through changing your social media habit for good.
Tal's step-by-step process is holistic and solid. In one week after reading, I'm already becoming much more efficient with my approach to social media and using the lessons from this book to remove other negative habits in my life too. ~ Chris Badgett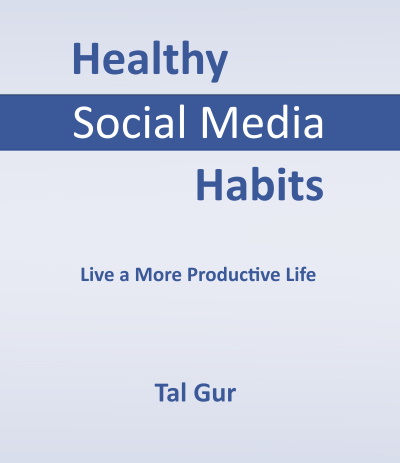 After reading this book you will be able to divert your social media cravings to a more productive and meaningful use. More importantly, you will know the exact steps you need to take to develop and maintain a healthier relationship with social media.
This book will also help you:
- evaluate your social media addiction
- understand exactly why you're (choosing to be) addicted to social media
- know what a healthy relationship with social media can look like
- identify your problematic social media usage patterns
- learn how to monitor your addiction so you don't fall back to your old behavior.
The approach of this book is not stop you from using social media, but rather to help you develop more healthy and constructive ways to connect with it. When used appropriately, social media can be fun, useful, and it can enrich your life.
Just for a moment imagine what you could do if you had an extra hour every day instead of spending aimless time on social media...
This book will be the beginning of a new relationship with social media - a relationship that maintains balance and ensures a more productive life!
Tal's book talks about understanding your addiction and then when you have realized what a huge problem it is, he gives you small manageable steps to pull yourself gently away from the sea of social media and into the shoreline where life can find a sensible balance again. Highly recommend it. Farnoosh Brock
Author
Tal Gur is a location independent entrepreneur, author, and impact investor. After trading his daily grind for a life of his own daring design, he spent a decade pursuing 100 major life goals around the globe. His most recent book and bestseller, The Art of Fully Living - 1 Man, 10 Years, 100 Life Goals, has set the stage for his new mission: elevating the next generation of leaders to their true potential.